Hi Goodix

I use the Goodix GR5515I0ND chip with external flash memory XTX XT25F64B (Serial NOR Flash Memory 64Mbit 8192 Kbyte - recommendedet in "GR5515I0ND Series Flash Selection Guide") ). I built a simple project to blink the LED, but after flashing the LED did not blink. I used a version of the SDK 1.6.12 where this project is located in the GR551x_SDK_V1.6.12/projects/peripheral/gpio/gpio_led directory. Keil MDK was used to build the project. The flash chip was connected to pins 43-48 of the GR5515I0ND. After connecting the debugger it was found that the code does not even get to the function "main()" and suddenly breaks down inside the function "platform_init(void)" when calling the nested function (line 232 highlighted in the screenshot) with the arguments :


platform_clock_init((mcu_clock_type_t)SYSTEM_CLOCK, RTC_OSC_CLK, CFG_LF_ACCURACY_PPM, 0);

from file GR551x_SDK_V1.6.12/toolchain/gr551x/source/platform_gr55xx.c.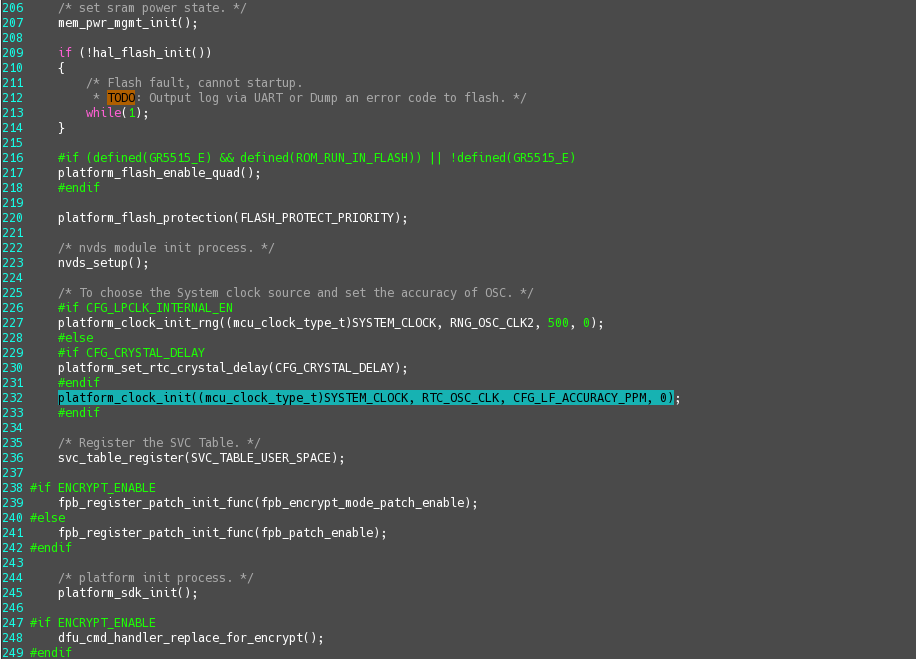 I also found out that this crash is related to aon_watchdog triggering and following full CPU reset, because platform_clock_init() either runs too long or can't complete its execution at all. I suspect that this has to do with wrong settings in the "custom_config.h" file and the fact that the external SPI flash memory used is not configured correctly. I tried changing many settings in "custom_config.h", but I didn't notice any effect at all.
Also in custom_config.h can define
#define GR5515_D
#define GR5515_C
#define GR5515_E
But which of these definitions refers to GR5515I0ND? I couldn't find a description in any available manuals. I don't understand which one is better and I used GR5515_D.
Please help me to understand.